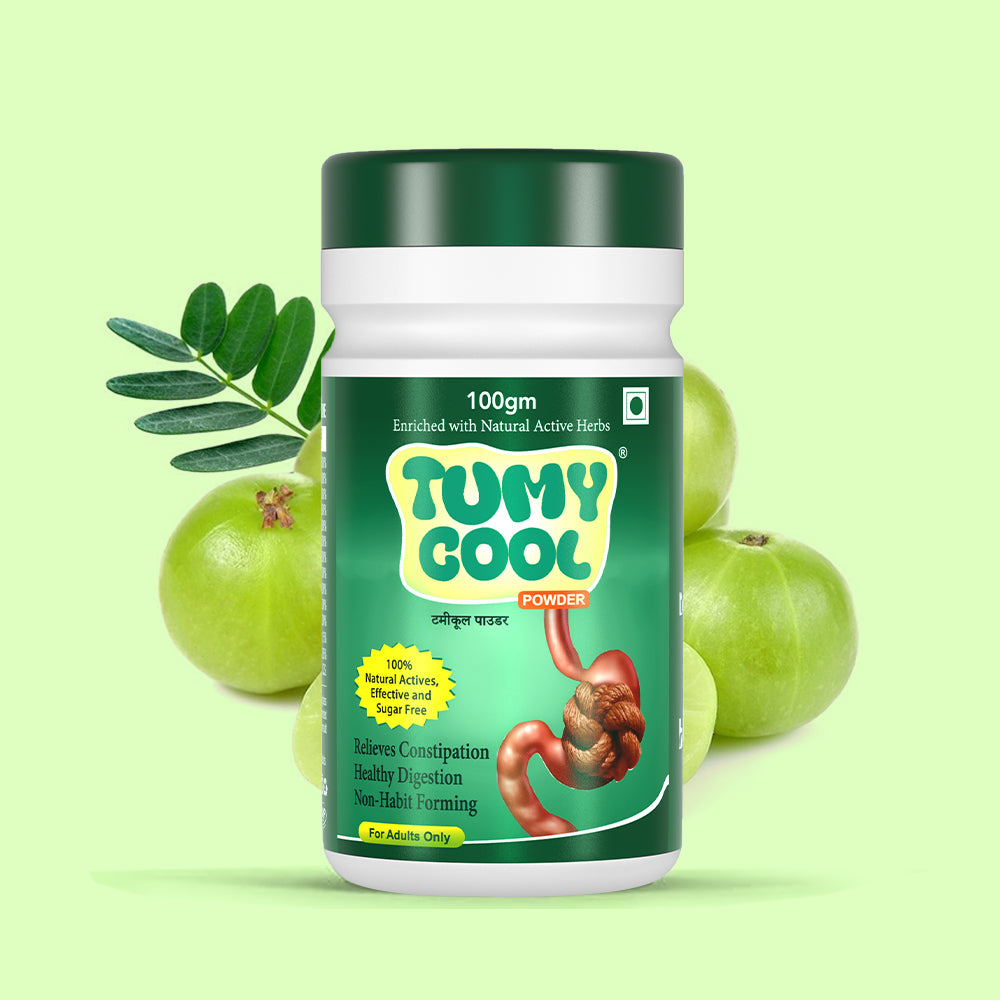 TUMYCOOL Constipation Relief Powder For Constipation, Indigestion, Acidity, Gas, Improves Digestion & Gut Health | Non Habit Forming | 100% Natural Actives | Sugar Free - 100 Gm
Orders ship within 2 to 7 business days.
TUMYCOOL Constipation Relief Powder is a special blend of home grown natural ingredients, that is useful in many ways and enhances general health. These powders may look like any other digestive powder on the market today, but they have their roots in the rich Ayurvedic history. Natural ingredients and herbs including Amla, Choti-Harad, Isabgol, Sanaya, Kala-Dana, and Bahera with 6 more active herbs. The best thing about Tumycool churn is that it contains 12 herbs that are completely natural, very effective, and professionally proved to support healthy digestion in humans. These ingredients were hand-selected from the top suppliers and stored with all GMP facilities. These components contribute in metabolism, increased immunity, and improved digestion, which can make your moody mornings happier. The formula of this medicine clears up chronic constipation and also play a significant role in IBS relief.
BENEFITS OF THE PRODUCT:
REMEDY FOR CONSTIPATION: It contains a variety of herbal compounds, including Isabgol, Amla, Harad, and other 9 vital herbs that help in the relief of constipation, hemorrhoids, and other digestive problems.
RELIEF IN BLOATING AND ACIDITY: For generations, a mixture of black pepper and black salt has been used to treat bloating, acidity, and gas. It also aids digestion and increases acid output in the stomach.
STIMULATE THE BOWEL MOVEMENT: It works as a laxative, heals the gut, and encourages bowel movement.
HELPS IN PROPER DIGESTION: Tumycool powder promotes healthy digestion, preserves digestive enzymes, and improves the digestive system.
ASSIST IN THE RELIEF OF INTESTINAL INFLAMMATION: They have a key function in intestinal inflammation. Tumycool powder promotes regular bowel movements and improves digestion.
BEST CURE FOR STOMACH UPSET: The most effective therapy for gastric upset and intestinal irritation.
INGREDIENTS:
Isabgol: Due to its heavy nature, it absorbs excess water & raises volume to the stool which makes stools easier to go. Due to its cold nature, it also provides a layer of protective lining to the inside surface of the stomach which helps in managing hyperacidity.
Amla: It contains lots of fibre, which helps to control bowel motions and treat digestive disorders including constipation, hemorrhoids, etc. In addition, it promotes the digestive juices that speed up food digestion, absorption, and preventing acidity.
Choti-Harad: consist of organic acid, flavonoids, amino-acid, and fatty acids which help in ingestion and constipation. It acts as appetizer and has digestive characteristics, Harad supports in the elimination of toxins from the body and maintains a healthy digestive tract. By ensuring that food is properly digested and by enhancing metabolism, it benefits in weight management.
Bael: Because of its anti-bacterial and anti-fungal characteristics, this mystical ingredient able to cure stomach ulcer. Additionally, it has laxative quality that ease constipation.
Kala-Dana: It is an effective laxative for gastric disorders, chronic constipation and ingestion.
Gulab: In traditional medicines, rose water is used to support digestion and relieve indigestion.
Sendha Namak: It is also known as rock salt which is an organic alternative of laxatives, which help in relieving digestive discomfort. In addition, it reduces gas, relieves heartburn, and increases appetite.
Saunf: It is a godown of a variety of nutrients and dietary fibres, which facilitates smooth bowel movement and enhances digestion. In addition, it is an effective laxative for constipation, haemorrhoids and other gastrointestinal disease treatments.
Bahera: it includes vital bio-actives such as vit. -C, iron, potassium, copper, organic acids and various essential proteins which induces anti-bacterial, anti-microbial, and anti-diarrheal properties.
Sanaya: It act as laxative and holds anti-microbial properties to cure the ingestion and frequent movement of bowl.
Ajwain and Kala-Namak: In Indian households a blend of black pepper and black salt are used for the bloating, acidity and gas for decades. This blend helps in digestion and improves the flow of acid in the stomach.
ABOUT THIS ITEM:
100% NATURAL ACTIVES: it is 100% natural and organic used for ingestion, constipation and irregular bowel movement.
RELIEVES CONSTIPATION: it is a generous product which is effective in constipation. It contains natural herbs which absorb water and raises volume to stool which make stool easier to go.
BLOATING AND ACIDITY RELIEF: this power contain blend of Ajwain and black salt which help in relief from gas, bloating and acidity.
HEALTHY DIGESTION: amla and other herbs used for stimulating digestive juices and help in curing stomach and intestine.
SAFE AND EFFECTIVE: it is an ayurvedic proprietary medicine which is 100% safe and effective
SUGAR FREE, NON-TOXIC AND NON-HABIT FORMING: Only adults should use tumycool powder. It is a non-toxic herbal drug that is not addictive and contains no sugar.
HOW IT WORKS:
Isabgol, Amla, Harad, Saunf, and Kala Dana are the main substances used to treat constipation, hemorrhoids, dyspepsia and improper bowel movement. Tumycool powder absorbs excess water and enhances stool volume, making stools easier to pass. Because of its cold nature, it also gives a layer of protective coating to the interior surface of the stomach, which aids in hyperacidity management. It is high in fibers, minerals, vitamins, proteins, and organic acids, which help in bowel management. Furthermore, it stimulates digestive juices, assisting in food digestion, absorption, and assimilation while reducing acidity.
CAUTIONS:
Close the container after use.
Store in cool and dry place, below 30O C.
Keep away from direct sunlight.
Pregnant women are advised to consult their physician before use.
HOW TO USE: Take 1-2 tablespoons (5-10g) of TUMYCOOL Powder with a glass of lukewarm water at bedtime or as recommended by the physician.
MANUFACTURER INFORMATION
Manufacturer Name:
Brawn Cosmetics and Herbals Pvt. Ltd, Plot No. 30, opposite of Infocity 2, Phase 2, Info Technology Park, Sector 33, Gurugram, Haryana 122002
Marketed By & Contact details:
Brawn Laboratories Limited, Plot no 44, First Floor, near Hero Honda Chowk, Pace City I, Sector 37, Gurugram, Haryana 122001
Customer Care Details:
E-mail: achoo@brawnherbals.in
Phone number: +91-9821192406
Shipping and Delivery Policy
Shipping Fees
We ship only within India. Free delivery can be applicable on selected products/combos or orders above a fixed price of Rs 599. Packages are shipped from Monday to Friday. We do not deliver on weekends and holidays.
Handling & Delivery Times
Orders are shipped via Shiprocket within 2 business days. Estimated delivery times are 5-8 business days. The shipping method varies depending on where it is Shipped.
Handling & Delivery Times
Orders are shipped via Shiprocket within 2 business days. Estimated delivery times are 5-8 business days. The shipping method varies depending on where it is Shipped.
Damage
Brawn Herbal is not liable for any products damaged or lost during shipping. If you received your order damaged, please contact the shipment carrier to file a claim. Please save all packaging materials and damaged goods before filing a claim.
Return Policy
Brawn Herbal's Return and Refund Policy provides detailed information about options and procedures for returning your order. Please check our Return Policy.
Refund Policy
Order Cancellation/ Refund Policy
For cancellation of any order, customer care should be contacted through email at customersupport@brawnlabs.in within 24 hours of order placement. Beyond 24 hours, orders placed cannot be canceled or refunded. For prepaid orders, the process of a refund will up to thirty business days. This shall comply with the Return/Exchange policy
Return/Exchange policy
To be eligible for a return, your item must be unused and in the same condition that you received it. It must also be in the original packaging, You'll also need the receipt or proof of purchase. Return/Exchange policy provides our customers with the option of an exchange, replacement, or refund on certain terms and conditions only, as defined below:- Return/ Exchange policy – A Customer's products may be returned or replaced on grounds viz.
(1) Mistaken delivery of the wrong product,
(2) Expired product,
(3) Damaged product being physical damage not contributed by the customer,
(4) Incomplete product.
Please note that products with a broken seal, tampered, torn product packaging, exchanged, or used, if packaging parts have been missing or exchange for choice shall not be processed for replacement/ return. Additionally, we shall be unable to proceed with the return or exchange of products, if the request for return/replacement is not placed within 3 working days from the date of delivery.
For return/ exchange of products, the following process must be followed:
Customer may raise a request for the faulty product within 3 working days from the date of delivery, by contacting us with the details provided on our website.
Upon receipt of user request we shall review it at the earliest and upon ascertainment of the issue, we shall send our courier partner to replace/exchange the product as deemed fit by us.
You can also contact us at customersupport@brawnlabs.in. If your return is accepted, we'll send you a return shipping label. Items sent back to us without first requesting a return will not be accepted.
Additional non-returnable items:
Gift cards
Sale Item
Please note that return/exchange shall be processed upon verification of the claim and BHPCL decision's on the review of the concerned matter shall be final and binding, which please be noted.
We will notify you once we've received and inspected your return, and let you know if the refund was approved or not. If approved, you'll be automatically refunded on your original payment method. Please remember it can take some time for your bank or credit card company to process and post the refund too.
Shipping Cost:
We'll pay the return shipping costs if the return is a result of our error (you received an incorrect or defective item, etc.). In other cases, you will be responsible for paying for your own shipping costs for returning your item. Shipping costs are non-refundable. If you receive a refund, the cost of return shipping will be deducted from your refund. Depending on where you live, the time it may take for your exchanged product to reach you, may vary.